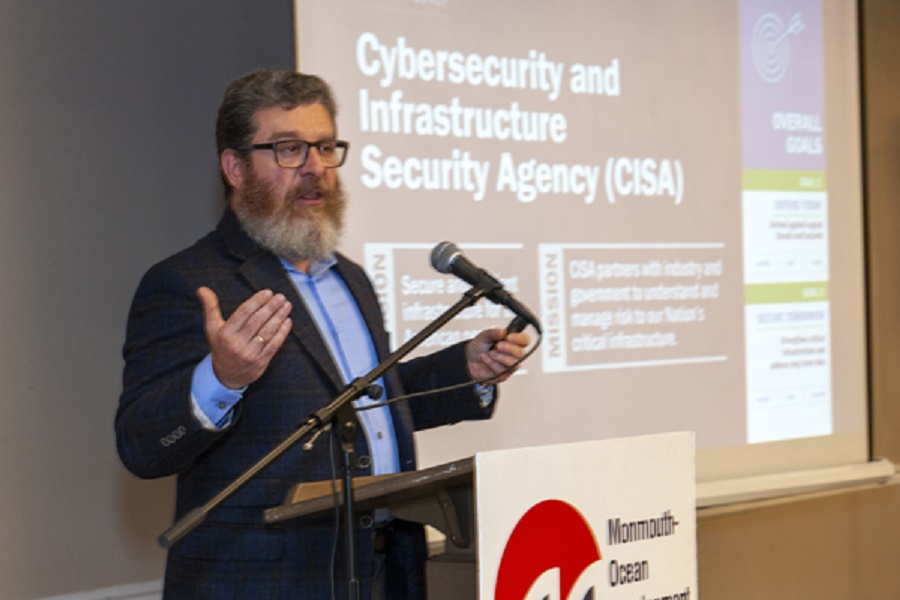 Cyber threats are becoming much more common, particularly among small and midsize businesses and organizations. Cyber threat actors see them as an easy target because they appear to be doing little to strengthen their cybersecurity.
While stopping a cyber-attack is difficult, businesses can be better prepared to handle attacks and minimize the impact to their operation. Anthony Zissimos, Cybersecurity Advisor, Cybersecurity & Infrastructure Security Agency, Department of Homeland Security, provided the luncheon attendees with a comprehensive overview of the most common tactics cyber threat actors use to try and gain access to your networks and how you can help minimize the risk.
Mr. Zissimos also offered an extensive list of resources that anyone can take advantage of if you believe you might be a victim of a cybercrime:
Cyber Resource Hub | CISA The Cybersecurity and Infrastructure Security Agency offers a range of cybersecurity assessments that evaluate operational resilience, cybersecurity practices, organizational management of external dependencies, and other key elements of a robust and resilient cyber framework. These professional, no-cost assessments are provided upon request on a voluntary basis and can help any organization with managing risk and strengthening the cybersecurity of our Nation's critical infrastructure.
Shields Up | CISA Due to increasing geopolitical tensions, CISA has issued a "Shields Up" message.  The advisory provides steps organizations can take immediately to ensure that:
The likelihood of a damaging cyber intrusion is reduced
A potential intrusion is quickly detected
An organization is prepared to respond if an intrusion does occur, and;
An organization has maximized their resilience in the face of a destructive cyber incident
Stop Ransomware | CISA Ransomware is a form of malware designed to encrypt files on a device, rendering any files and the systems that rely on them unusable. Malicious actors then demand ransom in exchange for decryption. StopRansomware.gov is the U.S. Government's official one-stop location for resources to tackle ransomware more effectively. 
Cyber Threat Response (report a cyber-crime)
Federal Bureau of Investigation
855-292-3937 or [email protected]
U.S. Secret Service
http://www.secretservice.gov/contact/field-offices
Immigration and Customs
Homeland Security Investigations
866-347-2423 or https://www.ice.gov/contact/hsi 
Asset Response
CISA Central
888-282-0870 or [email protected]
Report suspected or confirmed cyber incidents, including when the affected entity may be interested in government assistance in removing the adversary, restoring operations, and recommending ways to further improve security.
Report Internet Crimes:
FBI Internet Crime Complaint Center
Subscribe to our newsletter.