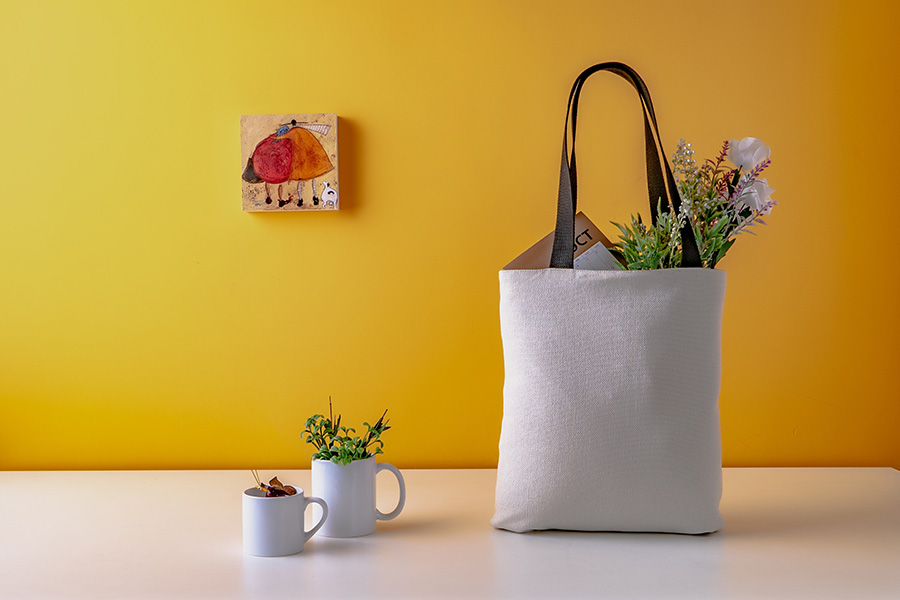 On May 4th, 2022, New Jersey will be implementing what some consider the strictest plastic bag ban in the country. The ban specifically prohibits single-use plastic bags for major grocery & retail stores. While the new law will affect every New Jerseyan, it also brings new business opportunities. Stores that no longer offer plastic bags cannot force anyone to purchase one of their own, leaving customers to either bring their own or walk out with their items in hand should they opt not to purchase a bag on site. Since NJ residents will likely start stocking up on reusable bags, it would be wise for businesses to take advantage and start branding their own as a marketing mechanism. There are many types of reusable bags, but in regards to the NJ law, we'll break them into two categories: reusable grocery bags and reusable shopping bags.
For a bag to be considered a grocery tote, it needs to have at least a 6" gusset. Grocery bags also need to be washable, which limits the material these bags can be made with. The most popular type of material is the non-woven tote bag, probably because these bags have the most friendly price point. If you're more eco-conscious, you can also do a laminated bag that is made of recycled plastic. However, it is important to remember that laminated bags need to be hand-washed. You can judge the quality of both of these materials by their GSM or "Grams per Square Meter." Most bags in our industry rate 80 GSM, however, this value can fluctuate. The higher the GSM, the denser and more durable your non-woven bag is. The final material to consider is cotton, which is renowned as a premium material. These bags are measured in ounces (oz.), not GSM. The higher the oz., the denser and more durable the bag.
Should you choose to create a reusable shopping bag versus a grocery tote, your choice of materials and styles expands. First, you don't have to worry about having a 6" gusset, so you can pick a bag size that suits your purposes. The length of the strap, additional pockets, and even zippers will also add to the look and feel of the product. On top of the materials previously discussed, you should also consider polyester or nylon. These will have a nicer look and feel over your non-woven and laminated bags. They're also smoother as opposed to cotton bags, which are generally a coarser material. Nylon and polyester are not measured in GSM but in Denier. This is a measure of the density of the fabric, and they usually range from two hundred to six hundred Denier. Just like with GSM, the higher the Denier, the thicker the bag. The price points on these bags can also range from inexpensive to moderately expensive depending on the Denier and functionality.
Studies have shown that customers associate the quality of your bag with your brand, so make sure you truly consider the pros and cons of each material in order to effectively represent your brand. Another factor to consider which is tied into your company's brand perception is the quality of the imprint. Screenprint is king in our industry, and most bags are decorated as such. The colors are bold, vibrant, and most importantly, cost-effective. However, screenprint has its limitations. The more color you use, the more expensive it becomes. Screenprint also has trouble picking up very fine details and gradients.
If your logo has multiple colors, then you'll need to look at other methods of decorating your bag. Some full-color print methods are heat transfers (a category unto themselves), digital, color jet, and dye sublimation, to name a few, and each method has its advantages and disadvantages. It's important to keep this in mind and manage your expectations. Picking the right type of bag for your needs may be easy, but picking the right type of print can be tricky. Just because you mocked up your awesome logo over a product on a computer screen doesn't mean it will actually print well. Before incorporating any printed bags into your marketing strategy, reach out to trusted vendors to answer all of your questions and to make sure there aren't any print issues with your art.
Make sure you're taking advantage of the NJ Plastic Bag Ban by introducing your brand's own reusable bags or revamp your existing bags with the help of a NJ vendor with expertise in the industry. By understanding the type of bag your business needs you can narrow down your options to a product that suits the needs of your customers and is within your price point.
If you need information as to whether you are subject to the new laws, or want more information on how it impacts your business, click here for a detailed brochure from the NJ Business Action Center.
Subscribe to our newsletter.