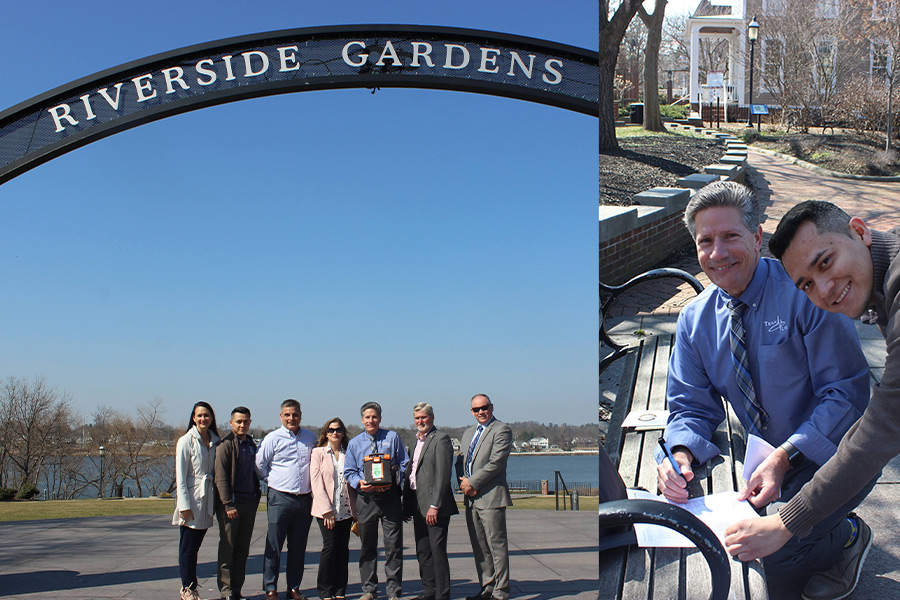 According to the Center for Disease Control and Prevention (CDC), heart disease claimed the lives of 19,744 New Jerseyians in 2020. Twenty years ago, when Dorothea Zando woke up, she could never have imagined that a heart attack would take the life of her 45-year-old brother, Victor, while he was out on his daily run.
Today, as a member of the Monmouth-Ocean Development Council (MODC) and founder of the Victor Zando Foundation, Zando continues her brother's legacy through faith, family, education, and community. In 2022, she made it her mission to highlight heart health during February and host an educational event to give back to the community. Through the collaboration with the nonprofit and marketing committees of the MODC, the event came to life, and Riverside Gardens Park in Red Bank will now be "heart-safe" with a new automated external defibrillator (AED) on-site. An AED is a portable, battery-operated device that a bystander can use to save a person's life after cardiac arrest. Having an on-site AED can save precious treatment time while waiting for emergency medical services (EMS) to arrive.
MODC is grateful for Zando's hard work on this event with Debra Rizzi, MODC's Marketing Chair, stating, "Dorothea reminded the MODC that heart disease, even during COVID, continues to claim the most lives nationally, and our organization needed to educate its members. She was passionate about a give-back component, and our president, Nancy Barone, recommended donating an AED to the Red Bank Parks & Recreation Department."
On February 23rd passion turned into promise as almost sixty attendees gathered at 26 West on the Navesink for "Live With HEART," an educational event with three goals: to educate, storytell, and raise funds to support heart disease awareness. The event began with a presentation by Felicia McIntosh, a Certified Nutritionist of Sunshine Functional Nutrition & Lifestyle Counseling, who shared that small changes make a big impact, such as cutting out sugar, not consuming proteins that are larger than the size of your palm, and finding time daily for exercise or relaxation. All of these changes can shift an individual's health and their dependency on prescription drugs. Three gold sponsors including Atlantic Exercise Physiology, Commercial Flooring & Interior Concepts, and the Victor Zando Foundation then all shared personal stories of how their lives have been impacted by a health crisis. Lastly, donations were solicited to raise money for the AED for Riverside Gardens Park.
Over $1,400 was raised through the donations of eleven entities with major contributions from Garza Law and the Victor Zando Foundation. The AED was purchased through Jim Schatzle, Paramedic and Owner of TEAM LIFE, INC., who stated, "This generous AED donation now makes Riverside Park HeartSafe. Even though Riverview Medical Center is a short distance away from the park, anyone in cardiac arrest needs an AED applied to them within three minutes to have the best chance of survival. This year-round public access AED is now available to thousands of residents and visitors to Riverside Gardens Park."
Why Riverside Gardens Park? A central hub for relaxation, entertainment, and recreation during the spring and summer months, with over 10,000 patrons visiting casually or for planned events like the Summer Series in the park where movies, jazz, and fitness by the YMCA of Red Bank are a weekly event, it is evident that an attendee could go into cardiac arrest. This year, patrons will be safer than ever before with the generous donation of an AED through the collective efforts of the Monmouth-Ocean Development Council + Victor Zando Foundation.
Oscar Salinas, Recreation Assistant of the Red Bank Parks & Recreation Department, stated, "On behalf of the Borough of Red Bank and The Recreation Department, we would like to thank the MODC and Victor Zando Foundation, as well as everyone who contributed to the donation of the AED to Red Bank. This donation is very important to us as we host multiple events at Riverside Gardens Park throughout the year, not to mention the large number of visitors the park gets every day. Now that we have an AED on site, our park is more prepared to respond to emergencies when they happen!"
Zando commented, "The Victor Zando Foundation was very proud to be part of the MODC "Live with HEART" event. Our goal was to bring as much awareness as possible to the subject of heart health and the steps one can take to reduce the risk of heart disease. If my brother had more knowledge about his own heart health, he might still be with us today. We hope the event inspires others to be proactive in their own heart health journeys and inspire those they love to do the same. We are also very happy to be giving back to the Red Bank community to donate a new AED to Riverside Gardens Park."
The MODC is planning to continue the tradition of its "Live with HEART" event to educate its members about heart health and support local communities in need.
Subscribe to our newsletter.