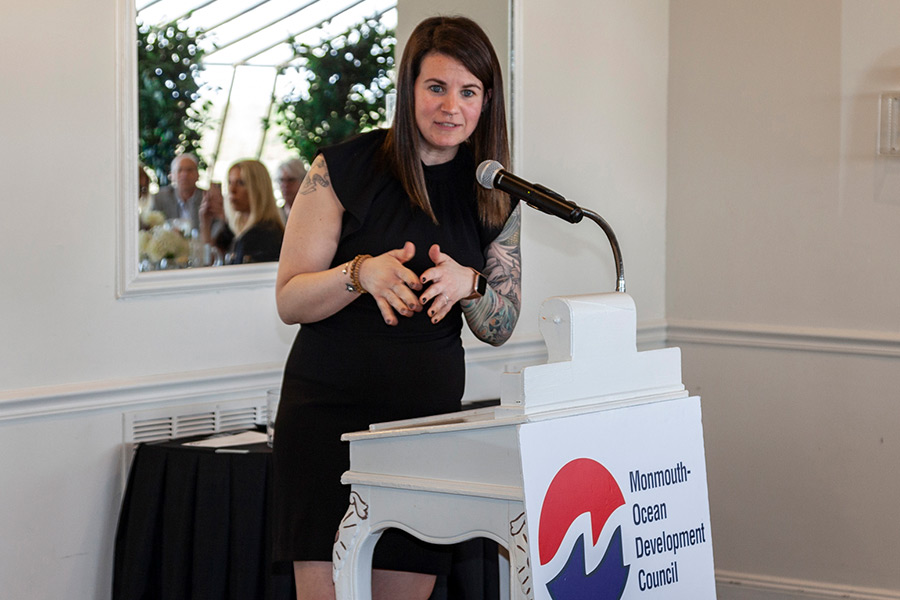 On Friday, March 18th, MODC members gathered at Jumping Brook Country Club to hear a riveting presentation from Samantha Parker, Director of Appointments, Office of the Governor who educated our members on "More Ways to Serve: A look at the Gubernatorial Appointments Process."
Did you know that there are 1,100 boards and commissions that are staffed, maintained, and run through our government? It is not a surprise that Sam stated that her job is like "playing 20 games of chess at one time with the ongoing goal to protect my Queen!"
Service on a board or commission is a great way to contribute to the state and your community. There are a great number of boards and commissions to which the Governor makes appointments that deal with virtually all Department and public policy areas. Some appointments made by the Governor require the Advice and Consent of the State Senate, while others are made by the Direct Appointment of the Governor, requiring no action by the Senate.
Open appointments can be viewed on line HERE or by calling 609.777.0251. Applicants can send their resumes to [email protected].
If you decide to apply, have a strong cover letter and resume prepared, and be ready to answer lengthy questionnaires and go through a background check. Best advice, get to know your state senator who can advocate for you!
Thank you to Sam for sharing your extensive knowledge and humanizing a daunting process for us. We think you now hold the record for the longest Q&A session following an MODC presentation!
About Samantha Parker, Director of Appointments (DoA)
Samantha comes to the Governor's Office from the Society for the Prevention of Teen Suicide, where she was the Development and Public Affairs Director. She is took over the DoA position from Tim Hillman in March of 2021, who is now Deputy Chief of Staff for Intergovernmental Affairs. She holds both a BA and MA from the University of Southern Maine.
Learn more from her HERE.
Subscribe to our newsletter.