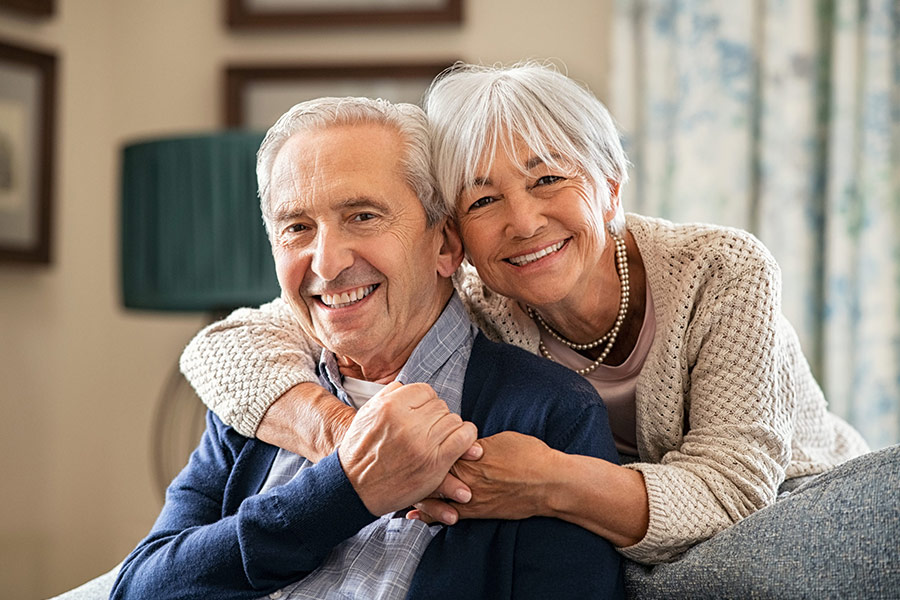 As we get older our health plays more of an important role than ever before. Routine check ups to the doctor and dentist are crucial in order to help you live a long and healthy life. As we've mentioned in previous blog posts, your oral health is way more than just a pretty smile. The state of your mouth, gums and teeth can have a significant impact on your overall health and potentially lead to other illnesses if not cared for properly. We'd like to share some facts and tips to help you care for your aging teeth as well as advice on how to help care for the teeth of someone you may care for.
The mouth is an entryway to the digestive and respiratory tracts, and can spread bacteria and disease throughout the body. Research shows links between oral health and several chronic conditions such as heart disease, stroke, pneumonia, diabetes and Alzheimer's disease. Some oral health problems are more common in older adults which is why we want to help you be proactive in your oral health care.
Common Oral Health Issues in people 65+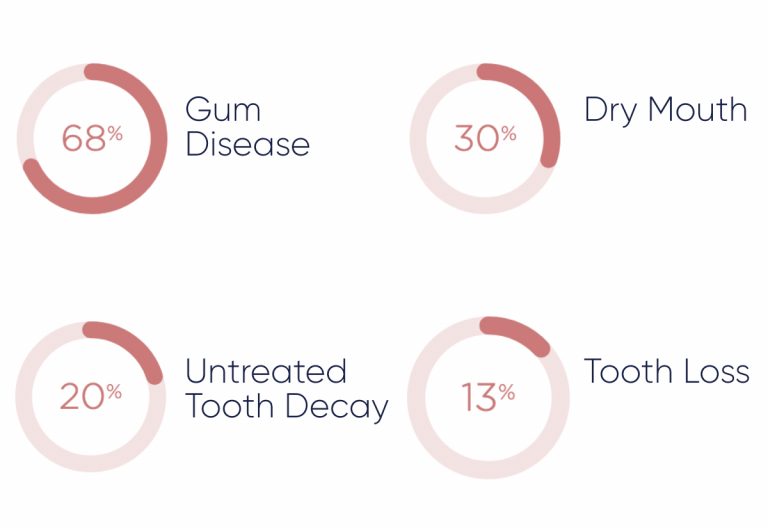 Untreated tooth decay. Nearly all adults (96%) aged 65 years or older have had a cavity; 1 in 5 have untreated tooth decay.
Gum disease. A high percentage of older adults have gum disease. About 2 in 3 (68%) adults aged 65 years or older have gum disease.
Tooth loss. Nearly 1 in 5 of adults aged 65 or older have lost all of their teeth. Complete tooth loss is twice as prevalent among adults aged 75 and older (26%) compared with adults aged 65-74 (13%). Having missing teeth or wearing dentures can affect nutrition, because people without teeth or with dentures often prefer soft, easily chewed foods instead of foods such as fresh fruits and vegetables.
Oral cancer. Cancers of the mouth (oral and pharyngeal cancers) are primarily diagnosed in older adults; median age at diagnosis is 62 years. At Campi Dental we perform oral cancer screenings at routine check ups and recommend all adults 50+ get screened at least once per year.
Dry mouth. Many older people experience dry mouth as they age. Contributing factors include the use of certain medications, changes in the body's ability to process medication, inadequate nutrition, and having long-term health problems. Dry mouth and receding gums also cause about half of people 75 and older to develop root caries, or tooth decay at the roots of teeth.
Darkened teeth. Caused, to some extent, by changes in dentin — the bone-like tissue that underlies the tooth enamel — and by a lifetime of consuming stain-causing foods and beverages. Also caused by thinning of the outer enamel layer that lets the darker yellower dentin show through. A darkened tooth or teeth may be a sign of a more serious problem and should be checked soon.
Chronic disease. People with chronic diseases such as arthritis, diabetes, heart diseases, and chronic obstructive pulmonary disease (COPD) may be more likely to develop gum (periodontal) disease, but they are less likely to get dental care than adults without these chronic conditions. Also, most older Americans take both prescription and over-the-counter drugs; many of these medications can cause dry mouth. Reduced saliva flow increases the risk of cavities.
Source: https://www.cdc.gov/oralhealth/basics/adult-oral-health
Oral Care Best Practices for Seniors
All of the mentioned common issues we've discussed can hopefully be prevented by maintaining proper dental care every day. Many of tips we give to kids, teens, and adults all still apply as your aging, they are just even more important than ever. We've listed below tips to follow in order to stay on top of your oral health.
Routine Dental Visits
Regularly scheduled visits to the dentist are crucial for senior dental health. Infrequent visits, or no visits at all, can allow time for problems to worsen and become more severe. Seniors should make appointments for cleanings at least twice a year. Maintaining a regular appointment schedule is one of the most important things you can do for your oral health. We can talk to you about what kind of care is needed for your teeth and keep a watch out for any conditions that can be diagnosed early on before they become serious. You can schedule your next visit HERE
Daily Brushing
At Campi Dental we typically recommend brushing twice a day for two minutes each time, in the morning and before bed. Depending on the person, it may be advised to brush between meals as well. When it comes to brushing for seniors. it can be a case by case basis but the minimum is 2x/day. If the patient is experiencing any oral issues or have health concerns, we most likely would recommend a third brushing midday after lunch.
Choose the Right Toothbrush
We often recommend electric toothbrushes to improve brushing techniques, which may be a good choice for seniors if they don't have the strength to do the best job manually. Your toothbrush/head should be replaced every three months at a minimum. You will also want to be sure you are using the bristle strength that's right for you. We often recommend using a soft toothbrush for seniors, but for those with certain gum conditions or any other health issues we may recommend hard bristles. You should use a toothpaste that is dentist recommended and contains fluoride.
Floss Regularly
Flossing is a very important part of oral healthcare, however, many people do not take the time to floss every day. With daily flossing, seniors can improve their dental health outcomes and reduce the risk of cavities and gum disease. Flossing is a quick and easy way to take care of your teeth and the benefits far out way any perceived inconvenience. If you have bridges or other hardware in your mouth flossing can be a bit more difficult. Your dental hygienist will go over exact flossing procedures with you at your cleaning so you know exactly how to floss under the hardware.
Mouthwash
Using an antiseptic or antibacterial mouthwash one to two times daily is an excellent way to enhance your brushing and flossing routine. It's recommended that you floss, brush, and then gargle with mouthwash. Using mouthwash as the last step is helpful because you may be less inclined to floss and brush effectively if your mouth already feels clean.
Supplementing with Calcium
Calcium is an important part of dental health for seniors. Many of us do not get enough calcium in our diets, especially when we're older. It's important to increase calcium intake in order to maintain the best possible oral health. Seniors are more susceptible to osteoporosis, which can break down the bones around your teeth and can be a serious health problem. Increasing your calcium intake can combat osteoporosis and keep your teeth as strong and healthy as possible.
Dental Accessory Care
Very often, elderly dental care includes the use of dentures. When you receive your dentures at Campi Dental our team will provide thorough instructions on how to properly care for your dentures and it is important that you follow this advice exactly. If your dentures give you pain, discomfort, or other troubles, it is important you come back to see us so we can look into the issue. It's so important to keep your dentures, mouth guards, or any other oral instruments very sanitized and clean to prevent unnecessary issues.
Diet
A healthy diet is so important for overall health and especially for your oral health. Eating sugary foods and drinks can lead to cavities and cause tooth decay and gum disease. If you do eat a sugary dessert or have a sweet tea or soda as an occasional treat, just be sure to brush your teeth immediately afterward.
Hydration
Water is so important! You should be drinking water throughout the day to stay hydrated and fuel your body. Many medications can cause dry mouth which can lead to enamel erosion. To avoid dry mouth you can ask your doctor to potentially switch to a different one if it makes sense, or you can increase your water intake. Drinking plenty of water every day is essential to all areas of your health. The exact amount of water you need varies depending on factors like body weight, energy output, and climate, but the typical recommendation is to drink a minimum of 64 ounces of water each day.
Take your dental health seriously and call us if you have any pain, discomfort. or any other oral health issues. Our doctors are known for their gentle touch and extra sensitive care which is perfect for seniors. Early detection and treatment of any dental problems can go a long way in preventing further complications for your dental health as well as your overall health and wellbeing.
Subscribe to our newsletter.