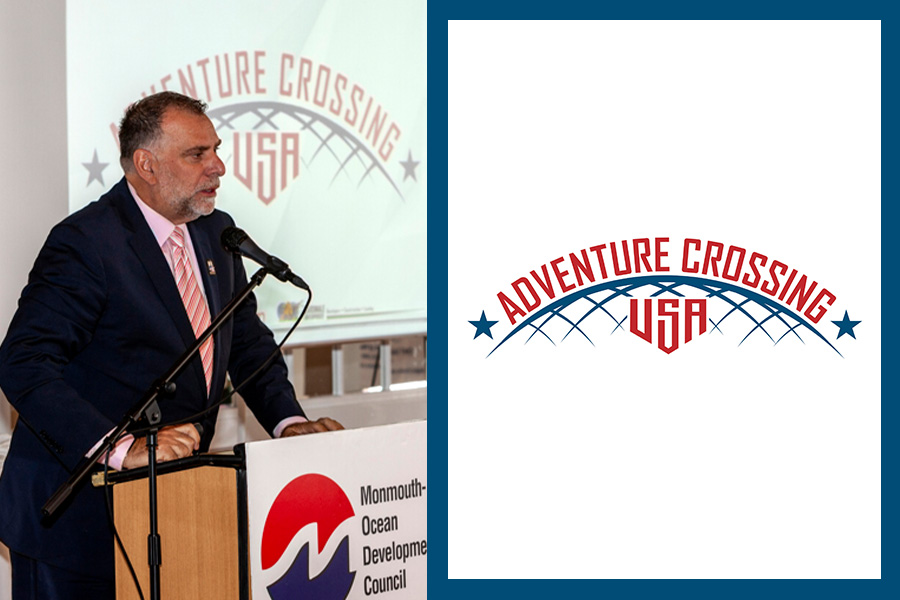 "More Than Just Sports and Entertainment" was the topic of conversation at the Waterview Pavilion in Belmar, NJ on Friday, April 22nd, as Vito Cardinale of Cardinale Enterprises educated MODC members about the development of Adventure Crossing USA, a multi-phase sports and entertainment complex that will also include retail and housing — a one-stop-shop for families to dine, stay, and play.
Cardinale Enterprises is the force behind the $500 million youth sports and entertainment complex project that is under construction in Jackson, NJ. The project, when completed, will spread over about 300 acres between Interstate 195 and Six Flags Great Adventure, along Monmouth Road. The physical centerpiece of the project is the massive dome; air supported structure and indoor complex that will embrace many sports and activities.
The heart and soul of the project is something quite different, a Multiple Sclerosis (MS) Research facility that is the driving purpose behind Adventure Crossing USA. Vito's life goal is to find a cure for MS to honor his late wife, Linda. Adventure Crossing USA will feature a state-of-the-art MS research center, with cutting edge technology and top medical partnerships with organizations that include The National MS Society, The Cleveland Mayo Clinic, Dr. Sadiq of the International MS Center, and Dr. Katz of the Linda E. Cardinale MS Center at CentraState Hospital. The facilities' and amenities' profits will fund the center.
What are the latest developments?
8 softball fields are already open with youth teams playing on them.
Retail partners that have committed to Adventure Crossing include Popeye's, 7-Eleven, Starbucks, and Taco Bell. Conversations have begun with high-end chefs to open up a variety of exclusive restaurants providing food from all over the world.
Hotels: Hilton will have two Hilton Garden Inns on the property and Marriott will be building a Springhill Suites.
Surfing and golf: there will be a wave tower for surfers, with waves the size of those seen in Hawaii. Top Golf will have over 44 swing suites. The hope is that the Adventure Golf and Entertainment Center will become a top destination for non-profit events, where the weather will no longer affect scheduling.
Executive Commons: a communal office space limited to 50 businesses, will open where businesses can rent office space on a monthly basis. The offering will include a receptionist, access to conference rooms, and other office amenities at the cost of only $500 per month.
Housing: 500 apartments units are being constructed which will add another element of interest to the property.
We are all excited to see this facility come to fruition and it will host amenities such as indoor/outdoor sports facilities, restaurants, hotels, recreation and entertainment venues, and much more, Adventure Crossing USA will undoubtedly become one of the most sought after destinations on the east coast for family-based activities.
***
About Vito Cardinale:
Cardinale, an engineer, was born and raised in Staten Island, where later with his wife Linda, he founded Cardinale Enterprises in 1983, a small start-up company that with Cardinale at the helm and Linda's constant support, evolved into a well known real estate development and management enterprise. They successfully owned various businesses from educational book distribution companies, to owning one of Xerox's most successful dealerships in the country. They eventually expanded Cardinale Enterprises to nearby New Jersey.
Cardinale takes multi-tasking to the next level, successfully working on various major projects at the same time balancing work with his generous and unique philanthropic initiatives. Take for example his annual Kids Wishin' to Go Fishin', day, and Veteran's 'Play Hook-e' Fishing event, held at his private fully stocked Lake Julianna named after his granddaughter, the lake borders his residence in Millstone, NJ.
It was his generous donation to CentraState Hospital in Freehold, NJ that supported the construction of the Linda E. Cardinale MS Center, providing diagnosis and continuing care and therapies for patients with Multiple Sclerosis. The Center was named in honor of Cardinale's wife of 30 years, who courageously battled MS until her passing in 2013.
Subscribe to our newsletter.